Dumpster Rentals in Waukesha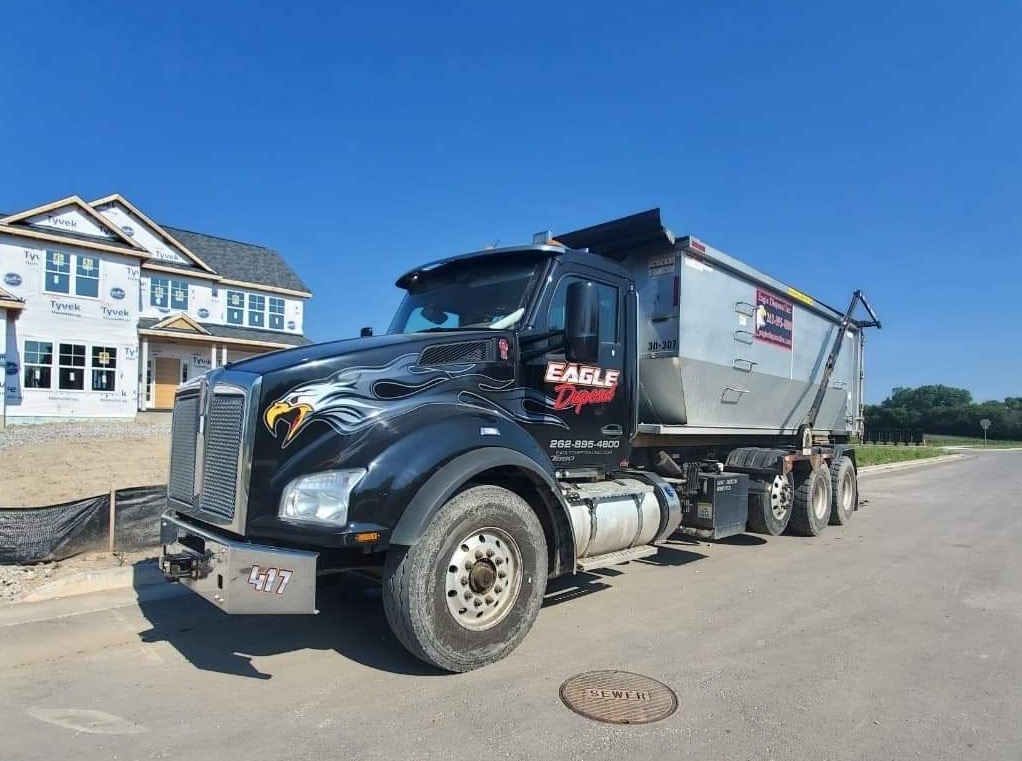 Taking roll-off dumpster services to the next level
After years of hoping and planning, your kitchen remodel is finally going through! But first, you need to tear out all of the old material to make way for your new floors, countertops, and cabinets. All of that debris has a tendency to mount up fast, so instead of taking a million trips to the local dump or recycling center, simply call on the convenient and affordable dumpster rental services of Eagle Disposal, Inc. Our friendly and reliable team truly cares about keeping the "Spring City" free from unsightly trash and rubbish, so whether you run a business near the Fox River or own a home on College Hill, you can count on our excellent roll off dumpster services to help you with all of your construction, landscaping, or remodeling projects.
About our dumpster rentals
Ordering a dumpster from Eagle Disposal, Inc. is a breeze! Just give us a call to book your delivery date, the length of time needed, and the size of dumpster required, and one of our specialized roll-off trucks will deliver it right to your door. All of our high-quality dumpsters have wheels on the bottom, a swinging door at one end, and an open top to make filling them up a whole lot easier. When your project is complete, our dumpster retrieval team will collect your roll-off dumpster and get rid of your waste at a disposal facility.   
Catering to projects of all shapes and sizes
No matter how large or small your project, Eagle Disposal, Inc. has a roll-off dumpster to suit your needs. Our dumpsters come in a variety of sizes ranging from 15-42 yard capacities.
15-yard clean concrete dumpster
When tearing up patio bricks, getting rid of concrete blocks, or replacing a driveway, make the responsible choice by selecting a clean concrete dumpster from Eagle Disposal, Inc. Not only can we take your concrete to a respectable recycling facility to be used for other purposes, but we always keep our dumpster rentals affordable.
15-yard roll off dumpster
Whether you are planning a kitchen remodel or cleaning out your overcrowded storage area, a 15-yard roll off dumpster can handle the job.
20-yard roll off dumpster
Able to handle around 4 tons of household or construction debris, the 20-yard dumpster provided by Eagle Disposal, Inc. is great for 2-car garage clean-outs and large landscaping projects.  
30-yard roll off dumpster
Estate clean-outs can produce a lot of waste, which is why we recommend a 30-yard roll off dumpster for the job.
42-yard dumpster
The biggest container offered by Eagle Disposal, Inc., our 42-yard dumpster can handle large-scale projects of all kinds. If you have a long-term commercial construction project, this may be the perfect container for you. Please note that this dumpster is only used in a compactor situation and is not for residential short-term rental. Give our friendly team a call for availability and pricing.